Lockdown Life: Media
Uncover the eye-opening results from Angelfish Fieldwork's survey, which explored respondents' media consumption during the lockdown, and see how media market research companies like ours can support your upcoming projects.
Thanks to the internet and evolving technology, we can access a variety of media in just seconds!
From films to TV series, documentaries to vlogs, sports and beyond, and all boasting a range of genres, there's no end to the entertainment available right at our fingertips.
When the first lockdown came into effect in March 2020, this access to media went from being a luxury to a saviour; with everyone required to stay at home, and many furloughed from their jobs, media became many people's primary source of entertainment.
This was when it occurred to our team at Angelfish Fieldwork to have a deeper look into people's media consumption habits, and how they had potentially changed as a result of the lockdown restrictions. Needless to say, the results were especially interesting!
Take a look at the results of our media consumption survey in the infographic below: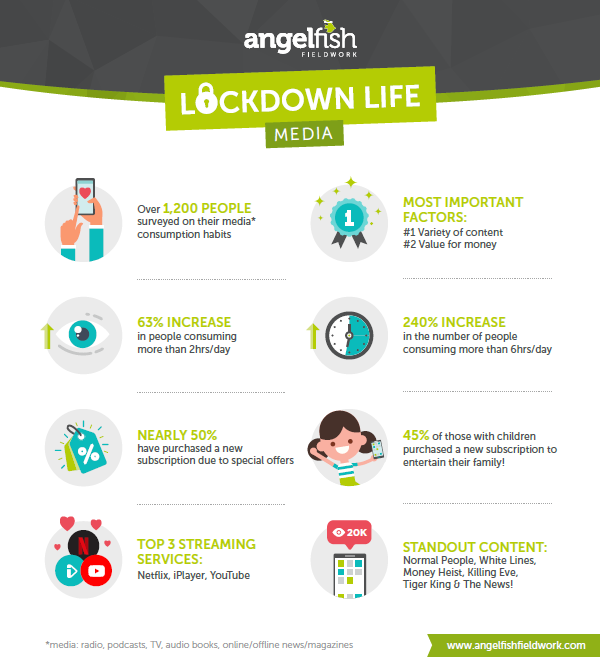 The outcomes from our Lockdown Life survey on media are as follows:
Over 1,200 people were surveyed on their media consumption habits. *
There was a 63% increase in people consuming more than two hours of media a day.
Nearly 50% of participants have purchased a new streaming subscription due to special offers.
The top 3 streaming services cited by participants included Netflix, iPlayer and YouTube.
The two most important factors in this choice were the variety of content and value for money.
There was a 240% increase in people consuming more than 6 hours of content a day.
45% of those with children purchased a new streaming subscription to entertain their family.
Standout content included Normal People, White Lines, Money Heist, Killing Eve, Tiger King and the news!
* Media: Radio, podcasts, TV, audio books, online/offline news and magazines
Looking to work with media market research companies for your upcoming project?
Here at Angelfish Fieldwork, we have a plethora of knowledge and experience in media market research, having supported a number of media clients to source the best participants for their projects over the years.
So, if you're looking to work with media market research companies for your next study, be sure to get in touch with us today, and we'll be glad to have a chat about your particular requirements!