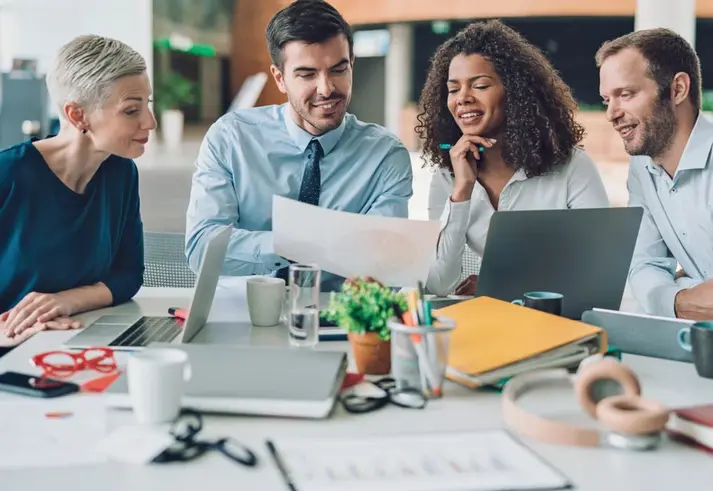 Fieldwork vs full-service: Which is best for your market research project?
This is a question that many people looking to conduct market research ask themselves.
Read on to find out more about what full service and fieldwork market research agencies are, and which will be best suited to your project!
What is a
full-service

market research agency, and when is it best to work with one?

A full-service market research agency is, essentially, what it says on the tin!

In short, it is an organisation made up of market research specialists and administrators who will provide you with an end-to-end market research solution, supporting your brand/business for the duration of your project. This includes:
1. Research planning and proposals
This will outline the purpose of the market research project (what it is setting out to achieve), the information that's needed to commence the project (a research brief), and how the project will proceed (for example, which research methodology needs to be implemented). Budget and time management will also be laid out as part of this process.
2. Screener writing and recruitment
Once a proposal has been agreed upon, your full-service agency will then go away and work on recruiting the participants you want for your project, as well as writing the screeners to ensure the participants they find are the best fit for the research and will get you the results you're after.
3. Data collection
Once the right participants have been recruited, a full-service agency may also have a hand in running the actual research and data gathering. However, they may instead decide to recruit a fieldwork agency to do this for them (more on that below)
4. Analysing and interpreting the data
With the data gathered, a full-service agency will then get it ready for analysis; this includes editing, coding, transcribing and verification, as well as creating a detailed plan for the final analysis.
5. Presenting the data to you
Once all the data has been verified and analysed, your full-service agency will prepare and present this to you in a written report. This will include an overview of the entire project, concluding with what was found and implications of these findings for your brand.
The best time to work with a full-service market research agency is typically if you work as part of a business or brand that doesn't have its own market research team.
However, it's important that you find the best possible full-service agency out there so that you can ensure the insights gathered from the market research project are wholly beneficial for your brand. Check out a few, including testimonials/reviews from their current clients and how they compare in terms of costs and turnaround times to get started!
What are
fieldwork

market research agencies, and what are the benefits of working with one?

By definition, "fieldwork" refers to the collection of primary data from external sources.

Fieldwork market research agencies, therefore, are solely dedicated to searching for and recruiting participants for your project and gathering the results, rather than working on your market research project as a whole.

The process of working with a fieldwork agency should ideally pan out as follows:
1. An in-depth briefing
We've got a great blog on how to fully brief your fieldwork agency here, but in summary, this session will involve your chosen fieldwork agency asking you questions about:
your business and its ultimate goals, plus everyone's roles/involvement in both teams in relation to the project
the goals and objectives of the research you want to carry out
key dates and project milestones
screening criteria, including target respondent groups
recruitment feasibility
identification of the research methodology being used for the project
consent forms and NDAs
At Angelfish, we'll also assign you to a dedicated project manager as part of this stage!
2. Recruitment of your desired participants
This might involve digital methods (such as paid and organic social media promotion), traditional techniques (such as word of mouth, phone calls and list recruitment), or a combination of the two.
At Angelfish, we will also recruit via our community of 50,000 validated respondents. We'll also keep you updated on how recruitment is going on a regular basis.
3. Maintaining contact throughout the project
Although a fieldwork agency won't run the actual research process for you, they should remain on hand in case there's anything you need; for example, to replace any last-minute participant drop-outs.
4. Report back on the respondent experience
The best fieldwork market research agencies won't leave you to it after the research has finished; ideally, they should also let you know how your participants felt after taking part in your project and pass on feedback that you can implement in future projects. Fieldwork agencies can also utilise qual consultants to conduct research and analysis/reports for you.
If you think a fieldwork agency is the best option for your research needs, we've got you covered!
We've been recruiting only the very best participants for our clients' market research projects since 2011, and would be thrilled to work with you as well to find the participants that will enable you to conduct more efficient research, increase engagement, and make better, more informed decisions for your brand.
Sound good?