Lockdown Life: Black Friday & Christmas
Read on to discover the results from our 2020 Christmas and Black Friday insights survey, which explores participants purchasing habits leading up to the festive period.
As a result of the COVID-19 pandemic, high street closures swept the nation.
With all but essential shops closing their doors, only key workers allowed to continue working as before (with precautions in place) and Black Friday and Christmas fast approaching, online purchasing soared through the roof – and seems unlikely to slow down anytime soon.
The same can be said in the context of market research; despite shops and other places being open again following the lockdown, the popularity of remote market research has remained high for businesses and participants alike.
However, we were especially interested to know whether the lead-up to the festive season would have an impact on consumer behaviours; so we set about discovering Christmas and Black Friday insights through for our latest Lockdown Life research project!
Over 2,000 members of the Angelfish participant community were surveyed on their purchasing habits leading up to Christmas and the festive period. Read the infographic below++ to see what we discovered: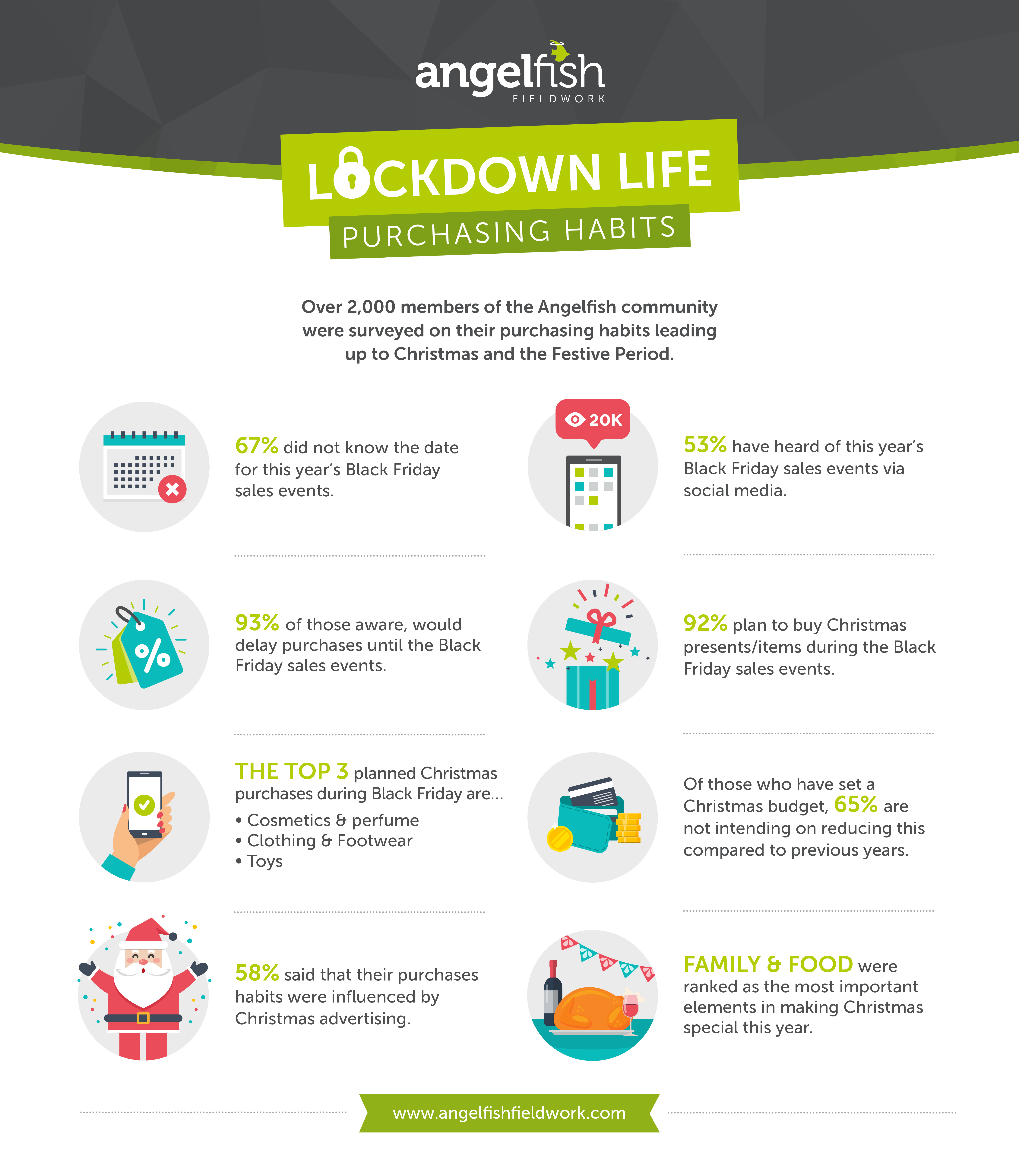 Here are the results from our Christmas and Black Friday insights research:
67% respondents did not know the date for 2020's Black Friday sales events.
93% of those aware would delay their purchases until the Black Friday sales events.
The top three planned Christmas purchases during Black Friday are…
cosmetics and perfume
clothing and footwear
toys
58% said that their purchasing habits were influenced by Christmas advertising.
53% hear about 2020's Black Friday sales events via social media.
92% planned to buy Christmas presents/items during the Black Friday sales events
Of those who had set a Christmas budget, 65% were not intending on reducing this compared to previous years.
Family and food were ranked as the most important elements in making Christmas special in 2020.
Looking to discover Christmas and Black Friday insights for your own brand?
It's these kinds of insights and statistics that can be used to make a powerful difference to your retail brand's success. If you'd like to discuss how we can support you with this in more detail with your very own project, get in touch with us for a chat today!